In celebration of National Volunteer Month, NobleHour is launching a virtual scavenger hunt to inspire participants to serve. On each day of National Volunteer Week, April 6-12, NobleHour will use Instagram and Twitter to share clues or questions related to volunteering and community engagement. Participants that Tweet the correct answer to @noblehour with the hashtag #NobleNVM will be entered to win daily prizes and the grand prize of an iPad Mini.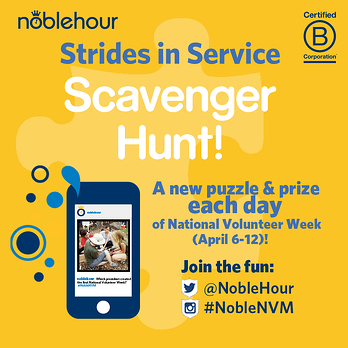 In addition to hosting the scavenger hunt, NobleHour will be sharing volunteer tips, exclusive service-learning blog posts, volunteer opportunities, and inspirational service quotes all month long.
"We believe in celebrating service every day, but we get especially excited for National Volunteer Month," said Keara Ziegerer, NobleHour's User Engagement Manager.

"The Strides in Service Scavenger Hunt is a fun way we can connect with volunteers, while rewarding them for their commitment to community engagement."
Members of the NobleHour team will also connect with volunteers at the 2014 National Service-Learning Conference, MONUMENTAL. The conference runs from April 9-12, ending with Global Youth Service Day – the largest service event in the world.
For more information about the Strides in Service Scavenger Hunt and NobleHour's National Volunteer Month celebration, visit info.noblehour.com/nvm.
About NobleHour:
We are a small company with a big mission to provide an online platform that enables and facilitates community engagement. NobleHour is a network of online communities that focuses on community engagement by offering a suite of tools for tracking and measuring service-learning, volunteering, and community service initiatives. Our online communities offer hour tracking, opportunity and event listings, and hour reporting tools that are used by school districts, colleges, universities, non-profits, and businesses throughout the US and most recently Canada. We have an interesting back story: NobleHour was started by a student back in 2005 who was looking for a way to find service opportunities in his area. It grew from a simple online database of service-learning opportunities to what we are today, with over 35,000 active users, over 3,000 organizations, and over 3,000 opportunity listings. Since the day of our official re-launch in January of 2012, our users have tracked close to 3 million service hours, with an economic impact of over $62,000,000