Every Day Should Be National Teacher Appreciation Day!
This post was updated on 4/27/2015
May 5 is National Teacher Appreciation Day. It's part of a week long celebration first started in 1984 by the National Parent Teacher Association as a time to recognize outstanding educators.
When I was a kid growing up in the south, we always showed our appreciation throughout the year with homemade cards and gifts from our garden – blackberry jam, pickled okra, canned tomatoes, and if we were lucky a beautiful bouquet of backyard roses.
Today, there are many wonderful ways to recognize the teachers in your student's life. Whether gifts are simple or elaborate, handmade or store bought, we've put together a list of ideas for parents and students alike. Show your teachers today and every day that their time and efforts are greatly appreciated.
Fine Dining – Leave the Brown Bag at Home!
Who wouldn't appreciate a special breakfast or luncheon? "We have a weeklong celebration," said Robin Pigg, a parent of a senior at Starkville Academy in Starkville, MS. "Every student is supposed to donate $3.00 towards the celebration. Each day features something different." The parent/teacher group provides lunch, teachers are treated to massages (by certified massage therapists) in the teacher's lounge, and food is brought in each day by parents and sometimes community churches. Gift cards to various restaurants are also presented to teachers.
"We have a committee that puts together a very nice luncheon for the high school teachers," said Anne Garraway, a parent with students at Mary, Queen of Peace in Mandeville, LA. "The very best gift was when someone cooked dinner (spaghetti and meatballs, desert, garlic bread, and tea) and delivered it to the school for teachers to take home. It was so nice not to have to rush home and cook one night!!!"
Social Media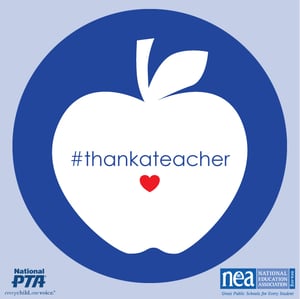 A picture may be worth a thousand words, but imagine a teacher's reaction when students use Twitter, Facebook, Instagram, Vine, and YouTube to express their gratitude.
Create a private Facebook page for students and parents to post positive comments, special memories, photos, and words of thanks to their teacher.
Use Instagram to post a picture of your class holding a thank you sign.
Be a YouTube sensation! Get the class in on the act. Create a video letting their teachers know how they've influenced the class. Have students talk about their goals for the future. Put their words to music and dance!
Design a Pinterest board. Share a collection of photos, quotes, etc., that show all the ways your teacher has made a difference.
Tweet your thanks! The National Education Association wants you to use the #ThankaTeacher hashtag to join others to honor teachers across the nation.
Direct your own Vine video! Six seconds is all it takes to tell your teachers how much you appreciate them again and again and again!
Gift Cards, Gift Baskets and Personalized Gifts
Thanks to the wonders of digital cameras and fast printing services, there's still time to come up with some great unique gifts. One year, I took a class photo, and uploaded it to Walgreen's. I used the photo to make a card and also a neck tie for my daughter's teacher. The tie was a pattern of the class photo repeated multiple times. Not only did the teacher like it, but he said his mom did too! From coffee mugs and trays, to scarves and blankets, you can find some thoughtful gifts.
Jaclin Szafraniec McGuire celebrated National Teacher Appreciation Day a little early this year. McGuire, a brand new mom and Journalism/English teacher at De La Salle Institute in Chicago received a Pandora bracelet from her yearbook staff at a surprise baby shower. "Imagine that," said McGuire. "Seventeen 17-year-olds throwing a wonderful baby shower and thinking to get me a baby charm and the bracelet! It was one of the most unique gifts I ever received."
Not sure exactly what to get? A group gift basket is a great way to go. Have the students bring in a copy of their favorite book or chip in a dollar or two for a gift card from iTunes, Amazon, or a local bookstore. Add in a certificate to Starbuck's, some sunscreen, and a towel and your teacher is ready for summer break!
Want to treat them to a night on the town? Have students bring in certificates towards a restaurant or movie theater. If they have children, offer to babysit for free!
Tried and True – Thank You Notes and Flowers
"Our students write personal thank you notes to their teachers," said Charlene Campeaux Boss, a business manager for St. Joseph Catholic School in Richardson, TX. Boss has a junior at Ursuline Academy in Dallas and a recent graduate of Jesuit Dallas. "Teachers say that's always special. One year we asked each child to bring one flower and each teacher got a very eclectic bouquet!!
A student's show of appreciation doesn't require a big expense. Having each student bring in one flower makes it a great group experience. Send in that extra vase from home and a few extra flowers just in case someone forgets. Or, let the kids know they can make flowers from tissue paper and pipe cleaners. Encourage students to present flowers one at a time with a special word of thanks.
Another easy way for students to express thanks as a class is to purchase a set of index cards connected with a ring. Put your student in charge and have them ask each of their classmates to write something nice about the teacher. What do they like about the teacher or the class? Write about a special experience or memory. Add in a few motivational quotes and some selfie's. Use a group photo as your cover and present it to the teacher.
Awards and Certificates
Everyone appreciates a certificate acknowledging hard work. The National PTA offers customizable certificates on their website.
Take it a step further and nominate your teacher for local, state and national awards. Many educational organizations have award programs. Check out the National Teachers Hall of Fame and the National Teacher of the Year award. Even People Magazine offers a Teacher of the Year award. Check the web for local and state sponsored awards. For example, Illinois has the Golden Apple Award.
Clay Emerson, a father of two in Indianapolis, said his son's teacher recently won the Indiana Teacher of the Year award and went to the White House to be honored by President Obama. "The students started the process."
In The News
Let everyone know how much you appreciate your teachers. Place an ad in your school's fundraiser program, a local paper or your church bulletin.
This year marks the 31st anniversary of National Teacher Appreciation Week. No matter how times or gifts have changed, remember, it's the thought that counts! Let your teachers know you are thinking of them this week and year-round. How do you honor the teachers in your student's life? Let us know. Better yet, tell us about the outstanding educators in your life.