On Sunday, NobleHour awarded three scholarships to students at Guilford County Schools' annual "Cool to Serve" event. Hundreds of graduates attended the event, which celebrated the class of 2013's service-learning accomplishments.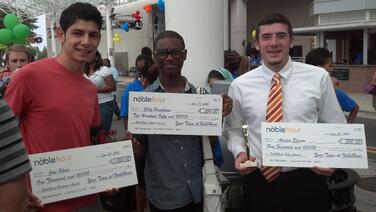 Jose Oliva received the NobleHour Platinum Award - $1,000 for having the "Most Impactful Service-Learning Project", Austin Elmore won $500 for the "Best Social/Global Impact Service-Learning Project, and Billy Hawkains won $250 for the Best Community/Civic Engagement Service-Learning Project.
"...For me, helping people is not about awards, money, hours or anything," said Oliva in an interview with The News & Record.
"...When I think about service, I think about people smiling."
To date, Guilford County students have logged more than 250,000 hours using NobleHour. In addition to the scholarships, students who served more than 225 hours earned a Service-Learning Diploma, and those with more than 100 hours received a Service-Learning Exemplary Award. In order to qualify for recognition, the students' service must be unpaid, address a community need, and include investigation, preparation and planning, action, reflection, and demonstration components. NobleHour facilitates these requirements through its comprehensive database, hour tracking, and reflection tools.
"By using NobleHour we are able to capture the economic impact our students make within the community." said Yvonne Foster, Character Development & Service-Learning Coordinator for Guilford County Schools.
The event was put on by the GCS Character Development team, which promotes character education, civic education, and service learning in order to "equip students with the tools and motivation necessary to be the change they wish to see in the world."
"It is such a heartwarming feeling to see youth involved and for the right reasons!" said Foster.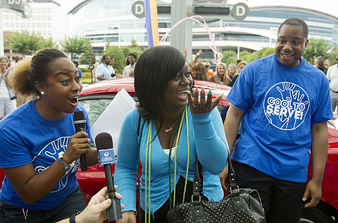 About NobleHour
NobleHour is based in Lakeland, FL and was started by a team of knowledgeable business investors, representing over 70 years of unparalleled entrepreneurial and business experience. They developed SweatMonkey.org in 2005 as an online service learning management platform for students and schools. SweatMonkey was used by countless organizations such as the YMCA, the SPCA, the United Way of North Central Florida, and the University of Florida. SweatMonkey was rebranded and launched in 2012 as NobleHour.com, an engaging online community platform that includes content sharing, a database of volunteer and job opportunities and events, hour tracking tools for tracking community service hours, and community impact measurement tools. NobleHour's mission is to provide an engaging platform to help connect people with their communities to empower civic engagement. For more information visit www.noblehour.com.