*This article was updated on 1/12/2015
College students across the country are gearing up for MLK Day of Service on Monday, January 19. What used to be just a day off to sleep in and catch up on homework has become an exciting day for young adults to actively engage in their community through volunteering.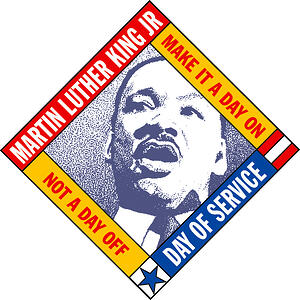 Dr. Martin Luther King, Jr. said, "Life's most important and urgent question is, 'What are you doing for others?'"
Dr. King would be proud to see today's youth answering that question with action. From painting schools and creating gardens, to visiting with the elderly, working in a food pantry or helping out at animal shelters, college students across the country are poised to make a difference this MLK Day of Service.
NobleHour is also proud of the amazing community work performed by its members. Coast to coast, our network of universities are engaging their students in a variety of projects to make a difference in the lives of those in need. Just last year, at the University of Pittsburgh, Janard Pendleton, the program coordinator for Pitt Serves said there were quite a few organized service activities for students and staff to help others throughout the Pittsburgh community. In 2014, over 700 students signed up to volunteer at local organizations like the Greater Pittsburgh Food Bank, the Department of Veterans Affairs and the Pittsburgh Botanic Garden.
The George Washington University has participated in the MLK Day of Service since 2001. Last year, over 600 students, faculty, staff and alumni signed up with the school's Center for Civic Engagement and Public Service to work together on a number of direct service projects throughout the D.C. area. The school also offered on-campus CPR training facilitated by EMeRG as part of their MLK Day of Service programming.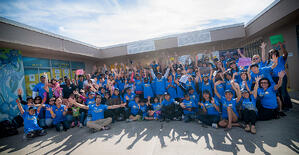 Many volunteers will use MLK Day to help elementary schools. Las January, students at University of California at San Diego helped beautify Bayside Elementary School in Imperial Beach, CA. According to Kristin Luciani, social media and communications manager for UC San Diego, the MLK Day of Service is one of their biggest events of the year. "We're expecting about 150 students, staff and alumni. We maxed out quickly."
Volunteers last year revitalized a student garden, adding a new herb garden. They also painted stepping-stones to create a pathway, and painted murals on the playground.
Luciani said their goal is to take this one day of service and turn it into something more long term. "We selected that school because one of our student organizations was already partnered with them. It's an opportunity to expand and get more of the campus community involved."
Luciani added that their partnership is strengthened by having alumni and student groups follow-up with the school with return visits throughout the year.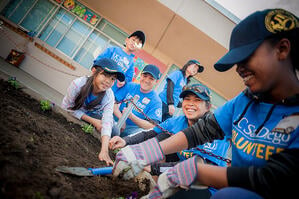 Students at Emerson College Los Angeles also worked to spruce up the Horace Mann Middle School. Volunteers with City Year painted educational murals, inspirational quotes and college logos throughout the school to help make a more engaging learning environment for the students.
Miami University's Office of Community Engagement and Service has a number of projects set up for MLK Day. Students will volunteer locally in the community at various organizations. Last year, students played bingo with the elderly, stocked food at the Oxford Community Choice Pantry, and worked with animals for the Animal Adoption Foundation.
Volunteers in Ohio also helped paint and refurbish a property purchased by Sojourner Recovery Services, a non-profit that provides substance abuse treatment for adults, adolescents and their families. Eileen Turain, development director of the organization, said she enjoys working with the students from Miami University's Hamilton campus and the Connect2Complete program. "We've worked with the students before and they've been very helpful. This facility helps people needing and wanting our services and programming."
The MLK Day of Service is also a day of celebration. Many organizations incorporate festivities along with their service projects. In addition to organizing a number of volunteer opportunities and educational activities, Greenville Technical College in South Carolina had a Giving Station last year for students at their Barton Campus Student Center. Students made donations to Habitat for Humanity of Greenville County, and also rotated through service stations where they made sandwiches for agencies serving the hungry, appreciation cards for veterans and service members, and created toys for groups helping animals in shelters.
Dr. King said, "An individual has not started living until he can rise above the narrow confines of his individualistic concerns to the broader concerns of all humanity."
This MLK Day, find time to address the broader concerns of your community. Join hundreds of thousands of people in making an impact. If you're still looking for volunteer opportunities, visit the NobleHour website or the MLK Day of Service website for listings. Remember, it's not just a day off. It's a day for you to be on and active in your community. Don't forget to let us know about your MLK Day of Service projects so we can share the good news!
Photo credit: Erik Jepsen/UC San Diego Publications.