This post was written by NobleHour Special Contributor Natasha Derezinski-Choo, a student at Grimsley High School in Greensboro, NC.
As summer arrives and the school year comes to an end, there is time for families to spend more time together. Many families look forward to going on vacation, going to the park, relaxing at the pool, or spending more time at home together. But what about spending more time volunteering in the community? This summer, as you put together plans for a fun and relaxing summer, be sure to set aside some time to volunteer as a family. When families volunteer together, they increase the number of helping hands working to help others while also spending quality time together and strengthening their bond as a family.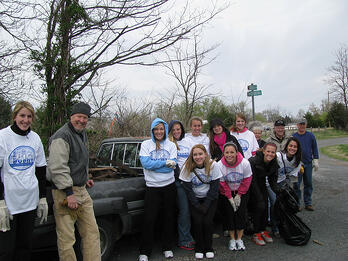 Volunteering as a family provides more help to the community, but it is also full of learning experiences and benefits for your family. When families volunteer together, they are able to gain greater insight into social issues. Volunteering as a family often leads to more meaningful reflection after and during your volunteer project. Around the dinner table or in the car ride home, families are more likely to engage in discussions that give perspective on the community issues they hope to tackle and how they can play a role in improving a situation.
Both children and adults can learn new skills from volunteering, or they can use the knowledge they already have and apply it to situations where they can make a positive impact. By volunteering together, families also work on problem solving skills and communication. This enables them to accomplish more as volunteers, but also helps families become more supportive as they transfer these conflict-resolution skills to their relationship as a family. The benefits of volunteering as a family are important for all age groups, but the impact service can have on children also makes it a valuable parenting tool.
Children learn by doing, and volunteering helps reinforce positive behaviours and habits. Children who volunteer and observe their parents volunteering will be more likely to volunteer in the future. In addition, volunteering has the capacity to enrich children's learning and development. Volunteering helps improve self-esteem and social skills. It shows children that they have the ability to make a positive impact. By learning to be comfortable working with others, children become more confident and start establishing leadership while still being humbled by the work they are doing. They also learn responsibility, as they often will be assigned to work on a particular task during the course of a volunteer project.
Children can also learn compassion through volunteering; in becoming more confident leaders and responsible individuals, they are compelled to treat others with kindness. In addition to helping develop emotional health, volunteering can also increase physical health. Furthermore, children who volunteer are also less likely to engage in at-risk behaviour as they grow up. Volunteering as a family ensures that the next generation in a community will be both accountable and caring to others.
When deciding how your family can help out in your community, it is important to find opportunities that interest everyone in the family. Volunteering should not feel like a chore; it should be something everyone enjoys. To find volunteer opportunities in your community, consider the types of activities your family already enjoys and discuss as a family what important community issues you would like to tackle. Different volunteer opportunities also serve to teach different lessons. For example, if your family likes being active outdoors, outdoor clean-ups in parks, rivers, or beaches would be the best fit. These types of service opportunities reinforce your family's responsibility to the environment. If your family is more interested in giving their time to people, working at food banks or homeless shelters and visiting nursing homes helps those in need in your community.
Alternatively, if your family cannot agree on an opportunity, you can take turns supporting each other. For example, if one family member wants to participate in a fundraiser, marathon, or sporting event, the other members of the family could find opportunities to help facilitate these events. If some family members are more active and like to be the organizers and planers of a community project, the other family members can still be supportive by doing little things like stuffing envelopes, folding brochures, passing out flyers, or participating as volunteers on the day of the event. However, what your family decides to do is not as important as the fact that you are doing it together.
When volunteering as a family, it is also important to have an open mind about your definition of family. Family does not have to be confined to your immediate family nor to what others may consider to be the definition of family. There's no reason grandparents cannot volunteer with grandchildren or cousins cannot volunteer together. In today's world the meaning of family is becoming more open and complex than before. In simple terms, family is the people you love and care about. Volunteering serves to strengthen these relationships, and when we strengthen the relationships in our families, we reinforce the bonds at the root of our communities.
Image used through a Creative Commons License via vastateparksstaff