This post was written by NobleHour Special Contributor Natasha Derezinski-Choo, a student at Grimsley High School in Greensboro, NC.

College decision deadlines are fast approaching, and there are many factors to weigh when narrowing down the prospects. Academic strength, value, proximity, and student life are some typical considerations to keep in mind. However, many students find success and satisfaction at institutions dedicated to community engagement and service.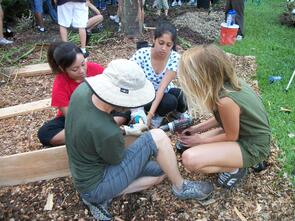 In addition to researching service initiatives and community projects, students can find service-oriented schools by referencing The President's Higher Education Community Service Honor Roll. The President's Honor Roll recognizes colleges and universities with strong community connections that encourage students to pursue civic engagement and solve community problems. Schools that receive this award are encouraging their students to excel both in academics and in committing to meaningful service.

Here is a list of some acclaimed universities whose programs have gained attention for their commitment to service:

Florida Atlantic University
Boca Raton, Fla.
2013 President's Higher Education Community Service Honor Roll
FAU has been encouraging its students to engage in service since 1996 when Associate professor Daniel Weppner urged the university to encourage its students to pair learning with volunteerism. In 1996 the Campus Volunteer Center (CVC) was opened to provide resources to students. Since its inception, the CVC has aided in establishing several service-oriented student organizations. The aim of service-learning at FAU is to create meaningful partnerships between the university and the community in order to connect students' education with service. In 2007 the CVC was renamed the Dr. Daniel Weppner Center for Civic Engagement and Service in honor of its founder. FAU students create a Noble Impact™ by engaging in their community and tracking more than 350,000 hours on NobleHour.


Nazareth College
Rochester, N.Y.
2013 President's Higher Education Community Service Honor Roll, Presidential Award for a Special Focus in Early Childhood Education
Nazareth College holds a reputation for its rigorous commitment to service. Fall orientation begins with a day of service, but this is only the beginning. Taking initiative in one's community is an expectation and a part of everyday life. A new addition to the curriculum requires that students complete one experiential learning opportunity by venturing into the community and being civic-minded. Service is an integral part of campus life, alongside attending lectures and writing papers. Nazareth College officially considers volunteerism and service in admissions.


Gettysburg College
Gettysburg, Pa.
2013 President's Higher Education Community Service Honor Roll for General Community Service
This small Liberal Arts school located just across from the historic battlefield boasts a history of service among its students and alumni. Its service-learning program began in 1991 and has played a part in educating students ever since. Students are engaged in service-learning projects which tackle issues in the local community such as unemployment, housing costs, depression, violence, and education. Part of receiving an education at Gettysburg College is learning that "Students don't have to go far to see firsthand this changing world—or be a positive force in it."
Miami University Ohio
Oxford, Ohio
2013 President's Higher Education Community Service Honor Roll with Distinction
With nearly 13,000 of its approximately 15,000 students involved in service-learning programs, the faculty at Miami University is making constant advances to its curriculum by finding more ways for students to combine learning with service. The university boasts several partnerships with local partners and school districts. For example, early childhood education majors work with local elementary schools; the elementary students benefit from tutoring in school, and the university students gain valuable experience and make valuable community connections that often carry on into career pathways. The school has made an effort to incorporate service-learning in 75 courses and continues to train faculty in teaching service-learning. Miami University uses NobleHour to connect with local community partners.


The George Washington University
Washington, D.C.
2013 President's Higher Education Community Service Honor Roll
The George Washington University actively considers and integrates service into its academic options for students. The service-learning opportunities at GW focus on four areas: academic service-learning, community service and engagement, service careers, and social entrepreneurship. This holistic approach to service means there are opportunities for every student at GW, ranging from just donating a few hours a month to synthesizing entrepreneurship skills with service by starting an entire social enterprise. GW offers more than 45 service-learning courses such as Writing for Social Change and Service-Learning in Advanced Spanish. GW aims to spur a "culture of service" among its students by providing a bounty of resources to connect students to their community. GW students tracked more than 44,000 hours on NobleHour in 2013.