In 2010, Pew Research Center's report Millennials: A Portrait of Generation Next found that young people are more likely than older age groups to volunteer. Many young people are tapping into the resources at their schools to volunteer, serve and better their communities.
At Iowa State University, students have formed the CyServe Council to promote volunteerism among students. The need for such an organization was identified because "...community service is something that is often put on the back burner for students because of all the other exciting opportunities that exist in the college atmosphere," according to the CyServe website. The organization seeks to "bring volunteerism to the forefront of student minds and promote the idea of continuous community service." CyServe provides comprehensive resources for students to engage in service, including six service days each year to celebrate the spirit of giving back. Organizations like CyServe are important because they act as a liaison between students and the community in need.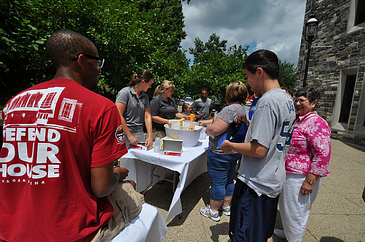 The Duke Partnership for Service, or dPS, is a student-lead initiative that works to promote "service culture." dPS is comprised of more than 70 student-lead service groups at Duke University. dPS provides resources for its organizations to succeed in changing their community. dPS works with each service organization to help it find funding and volunteers. Furthermore, it makes sure that service efforts at Duke remain concise by ensuring the efforts of different organizations do not overlap. dPS helps the organizations under its roof to work collaboratively and effectively. Essentially, dPS is a network of student-lead service groups working to optimize the impact of service oriented students.
At UNC Chapel Hill, APPLES Service-Learning is a service organization that has been working to promote service and volunteerism in the classroom since 1990. The program falls under UNC Chapel Hill's Carolina Center for Public Service. The focus of this student-led initiative is to provide comprehensive resources to students and faculty about service-learning. The organization does this by forming strong partnerships within the university and with the community. APPLES' program includes service-learning internships, initiatives, and courses. APPLES hopes to encourage civic engagement, collaborative efforts, and meaningful partnerships with the community. According to the CCPS website, "As APPLES opportunities have expanded over the years, the primary purpose continues to be to enhance and deepen learning through meaningful collaborations with community organizations among the growing list of programs." APPLES provides numerous resources and opportunities for students to become more engaged. This program is unique in its dedication to both education and community building through service.
The goals of student-led service coalitions accurately embody the spirit of teamwork and community. These organizations are fundamental in impressing service as a basic part of education and also in connecting community organizations and non-profits with the helping hands of empowered students.
To capitalize on their impact, student organizations can use NobleHour to streamline communication, the sharing of resources and opportunities, volunteer hour tracking and impact measurement. Service groups can easily see the cumulative number of hours served by members of their NobleHour Community. Additionally, service groups and community partners can post opportunities and relevant content to keep their members in the loop about local initiatives.
"If you give people tools, and they use their natural abilities and their curiosity, they will develop things in ways that will surprise you very much beyond what you might have expected." ~Bill Gates
Creative Commons Image source: http://www.flickr.com/photos/sjuadmissions/7636918838