By NobleHour Special Contributor, Dolly Duplantier
Look at any college admissions application and once you get past the demographics, the next top sections comprise grades, standardized test scores and activities.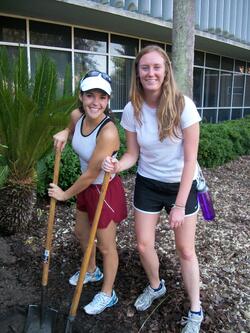 While extracurricular activities and leadership skills have always been a part of the admissions process, universities are now looking more closely at an applicant's community engagement and student volunteering record. However, before your high schooler starts racking up miscellaneous hours for some magical number, keep in mind that today's college admissions counselors aren't just looking for quantitative data. They want to know why your student is doing service work.
"We are seeing more and more high schools and middle schools require service hours," said Vincent Ilustre, founding executive director of Tulane University's Center for Public Service (CPS). "We're looking beyond that, for stellar community service activities."
Ilustre said they make a distinction between filling a high school quota of 100-200 hours and long term sustained involvement. "We are looking for more depth in how they frame their activities. What is the rhyme and reason? Why did the student take on a particular project? We look into what they do, but it's not the only thing that dictates if they get in."
Tulane is nationally known for its own service curriculum. "We are a leader in terms of how we look at public service and what our students do here," said Faye Tydlaska, the school's director of undergraduate admissions. "We award approximately 20 Community Service Scholarships each year, and those students go on to be Fellows in our Center for Public Service once they are at Tulane."
Tulane created CPS in response to the numerous community projects going on after Hurricane Katrina in 2005. University officials understood first hand that public service rooted in an academic context would contribute to the development of student civic engagement. Tulane has won numerous awards for their efforts to serve the New Orleans community.
"Most higher educational institutions now have offices similar to Tulane's Center for Public Service," said Ilustre.
According to the Association of American Colleges and Universities personal and social responsibility are core elements of a 21st century education. A recent survey of its nearly 1,300 members revealed that many institutions are placing more emphasis on civic education.
Tydlaska agrees that more and more of Tulane's peers are focusing on public service. For student volunteering to have a true impact, Tulane looks for deep, ongoing community engagement. Students concentrating on one or two projects for a couple of years will get noticed as opposed to those just completing tasks for service hour requirements.
"We make a distinction between requirements for school and something above and beyond," she said. "We look at their level of involvement in their projects. For example, are they organizing a can drive or just collecting cans?"
"Most students going to elite universities are coming from high schools that require service," said Ilustre. "So you have to be able to synthesize why."
Ilustre would like to see high schools encourage their students to be about their projects. It's not just about reporting hours anymore. Students who stand out are able to talk more about what they are learning. They can reflect on their activities, discuss the impact of their service and why it is important to them and their community. A deeper level of community service will make them stand out."
Many factors come into play in determining whether or not an applicant is accepted. "We look at how much interest a student shows in the university, why they want to attend Tulane, and letters of recommendation among other things," said Tydlaska.
Student volunteering could potentially help an applicant that is on the fence. If two students are academically the same, Ilustre said the one dedicated to community service would have a better chance of being admitted.
Tydlaska suggested that if students are interested in volunteering, they should look for opportunities involving their own interests. The first year or two of high school are a good time to explore different topics. "Start early on and then focus on one or two main issues or projects."
Ilustre agreed. "Freshman year is a great opportunity to explore what's out there. Students should sample different types of activities or topics that really interest them and then take it a step further. "
As students mature, they should find a specific project or issue that is important to them. They should research organizations that support their interests. Students who want to stand out will delve deeper and get more excited about their community engagement.
Ilustre also believes being passionate about a specific cause or issue could help students determine where they want to go to college and what they want to study. "If you have a particular interest, see if there are colleges that can support your passion."
Tydlaska has seen all sorts of civic engagement in the applications that cross her desk - from students working locally with Habitat for Humanity to going abroad to help children and adults in need.
"You don't need to go across the world. What's important is that you find what you are passionate about. Go with your passion whether it's local, regional, national or international." - Faye Tydlaska, Tulane University
Both Tydlaska and Ilustre agree that it's not necessarily important where you do your community service. "You don't need to go across the world," he said. "What's important is that you find what you are passionate about. Go with your passion whether it's local, regional, national or international."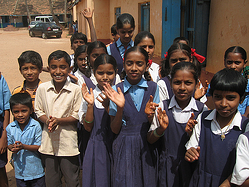 Tydlaska adds that whatever type of student volunteering is chosen, it should be authentic. "If it's not authentic, don't pursue it. If your passion is sports, writing, music, etc. - pursue your talent in those areas."
"It's really heartwarming and encouraging to see so many students engaged in community service and wanting to make a difference," said Tydlaska. "We see some extraordinary students. They've done a host of incredible things. Some have started non-profit races for specific causes. These are fully civic engaged students."
Do you want to help your son or daughter become more engaged in student volunteering and community service? Check out the NobleHour website for service opportunities, as well as ways to track hours and reflect on volunteering experiences. Has your high school student's community engagement made a difference in his or her college applications? Tell us how.