Looking to learn about volunteering, activism and creating social change? Add these books to your reading list to learn more about the different ways you can use your time to help others and create social good.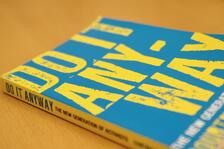 This book explores the inspiring ways that young people are making a career out of making a difference. Martin portrays eight young activists both as flawed, relatable people and extraordinary, inspiring, change makers. She discards the traditional "save the world" and "feel-good" motivations for volunteerism. Instead she approaches service with one question in mind: "How do you create a meaningful life?"

2. Building Powerful Community Organizations: A Personal Guide to Creating Groups that Can Solve Problems and Change the Worldby Michael Jacoby Brown
This guide provides a step-by-step process to starting your own community organization or non-profit, followed by case studies that better illustrate these steps. In addition to starting a group, the book also explores how to address community issues. Most importantly, this book gives advice on how to be a leader. From engaging volunteers to organizing meetings and raising funds, this book gives you all the tools and advice needed to empower a group of people to change their community.

3. The (Help!) I-Don't-Have-Enough-Time Guide to Volunteer Management by Susan J. Ellis and Katherine Noyes

This easy-to-follow guide on volunteer management provides information about communicating roles and responsibilities to volunteers, utilizing volunteers' talents, and building an organization's success. This book appeals to the busy lives of many people in the non-profit sector and emphasises time management and efficiency, particularly for volunteer managers whose work with volunteers in their spare time.

4. Chicken Soup for the Volunteer's Soul: Stories to Celebrate the Spirit of Courage, Caring and Communityby Jack Canfield, Mark Victor Hansen, Arline McGraw Oberst, John T. Boal, Tom Lagana, and Laura Lagana

In this instalment of the well-known Chicken Soup for the Soul series, volunteers share their heartfelt stories and experiences. These stories come from everyday people who use their time and talents to impact their community. The volunteers who contributed to this collection work for a variety of organizations and dozens of causes, but a common thread among their stories is the capacity within each of us to care for one another.

5. Portfolios of the Poor: How the World's Poor Live on $2by Daryl Collins, Jonathan Morduch, Stuart Rutherford, Orlanda Ruthven

This study looks at worldwide poverty and suggests solutions to this problem. Portfolios of the Poor dives into the everyday lives of some of the forty percent of the world's population living on less than $2 a day. The study emphasizes the use of microfinance and the solutions to poverty at a grassroots level. The authors attempt to analyze poverty from the point of view of the poor rather than generalized statistics and trends. This book also suggests solutions that non-profits can follow to help the poor help themselves.

6. How to Change the World: Social Entrepreneurs and the Power of New Ideas by David Bornstein

This book examines the rise of social entrepreneurship. It offers case studies, personal stories, and analysis to explain how social entrepreneurship enables an individual to make an impact. In addition to explaining how social entrepreneurship works, Bornstein also explains how it is becoming more popular and why it is so important in our changing world.

7. The Kid's Guide to Service Projects: Over 500 Service Ideas for Young People Who Want to Make a Difference by Barbara A. Lewis
This book is a great resource for educators. It helps encourage young people to serve and helps those who aren't sure where to start changing their community. The book gives hundreds of project ideas and includes references and contacts to help students get started. This service guide also has a "Ten Steps to Successful Service Projects" to help young people learn the basics of meaningful service and volunteerism.

8. Getting to Maybe: How the World is Changedby Frances Westley, Brenda Zimmerman, and Michael Patton
This book explores how meaningful change can actually become feasible. The idea of one person affecting large, complex world issues can often seem impossible. It's not possible for every person to become a heroic leader in a movement. However, that doesn't mean one person cannot make a difference. The authors of this book explore the stories of people working toward visible progress and synthesize these stories and community relationships into guidelines for creating actual social change. 






9. The Insider's Guide to the Peace Corps: What to Know Before You Go by Dillon Banerjee
Ever wonder what joining the Peace Corps is like? This book answers nearly every question imaginable, including the application process, packing for your trip, how to adjust to living abroad, and the effectiveness of the Peace Corps as an organization. The book is written in an easy-to-follow question-answer format and provides all the knowledge you might ever want to know about the Peace Corps from experienced volunteers themselves.



10. The Power of Unreasonable People: How Social Entrepreneurs Create Markets that Change the Worldby John Elkington and Pamela Hartigan

Elkington and Hartigan argue that social entrepreneurs are helping the world progress by analyzing the stories of unconventional but successful social entrepreneurs. This book provides a look into the sector of the economy teetering between non-profits and businesses. These companies apply the skills of entrepreneurship to find solutions to social issues. The book explains how these companies are changing the landscape of today's economy.


11. Don't Just Count Your Hours, Make Your Hours Count by Dr. Kristin E. Joos Ph.D., Alana Rush

The book includes best practices, tips, lists, "How to's", "Don't do's", popular wisdom, academic research, real-life experiences, student volunteer etiquette guides, and more. It is THE essential guide to volunteering & community service for students.