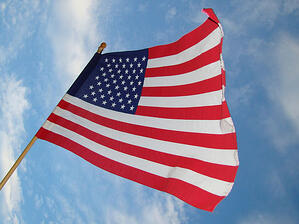 Veterans Day is celebrated on November 11. Established in 1954, the federal holiday honors the service of all U.S. military veterans. Seems to me though, these brave men and women should be honored every day of the year. Both my parents were Marines. My father retired as a Colonel and my mother a Captain. I believe she was in one of the first classes of women Marines, one of her proudest accomplishments. I never fully realized the importance of their commitment until I was an adult. Maybe it's because they didn't talk about it that often. I'm not really sure. I do feel that it is extremely important for all of us to recognize our troops and our Veterans and to teach our children about the sacrifices made.
In the military, "Got Your 6" means "I've Got Your Back." In WWI, fighter pilots referenced the rear of an airplane as the six o'clock position. This term emphasizes the way military members look out for each other. Now it's our turn - on Veterans Day and year round, here are six ways you, your family and your community can honor all who served in the United States Armed Forces.
Send a letter of thanks to courageous Veterans. This simple act is so meaningful and can have a lasting impact. In fact, it is one of Operation Gratitude's most urgent needs. Send a card to someone you know who has served in the Military or you can send multiple letters that fit in a standard size business envelope to Operation Gratitude, a non-profit organization that seeks to meet the needs of and express appreciation to Active Duty and Veteran communities. They will forward the letters to Veterans. If you know a Veteran that would appreciate Letters of Gratitude, you can send his or her name, the war in which they served and their USPS address to opgratvolunteer1@yahoo.com.
Organize a collection drive or a "Care Kit Assembly" event. Engage friends and family, as well as church and school groups to collect needed items for Veterans. Operation Gratitude's program delivers thousands of care packages to Military Veterans across the country. VA hospitals, nursing homes, and support organizations make requests for specific items. Their wish lists include everything from hats and scarves, to personal electronics, non-perishable snacks, and gift cards. You can also send donations directly through Amazon.com or donate to Operation Gratitude. Every $15 can cover the assembly and shipping costs to send packages.
Recycle for Veterans! Collect old cell phones, iPads, and iPods, as well as inkjet cartridges, and laptop computers. Operation Gratitude receives money for items donated in their name and students can earn service hours while helping the environment!
Take a Veteran to School Day.™ Show the Veterans in your community how much you value their commitment and sacrifice. Students can learn about character and strength, when Veterans bring history to life by sharing their stories.
Volunteer at your local Veterans facility. The US Department of Veterans Affairs website can help you find the nearest facility in your state.
Use social media to #ThankAVet and help raise money! The HISTORY channel's Thank A Vet social campaign will donate $1 for each Tweet using #ThankAVet. Donations will support three non-profits dedicated to helping Veterans: Team Rubicon, DAV (Disabled American Veterans), and America's VetDogs.
Continue to honor our Veterans everyday. Let them know, "You've Got their 6!" Tell us about the special men and women in your life that have served our country! Thank you to our Veterans for your bravery and your sacrifice.