This post was written by NobleHour Special Contributor Natasha Derezinski-Choo
, a student at Grimsley High School in Greensboro, NC.
"We have to realize that sitting in a classroom is not the only way you learn, and it's certainly not the best way you learn."
Recently, I shared how Brenda Elliott-Johnson, along with her Character Development team, is successfully leading a growing service-learning movement in her school district. Elliott-Johnson is the Executive Director of Student Services and Character Development for Guilford County Schools and the 2014 recipient of the G. Bernard Gill Urban Service-Learning Award.
This week, in part two of my interview, Elliott-Johnson shares the power of service-learning as a tool for educators. In response, I share my experiences as a student involved in service-learning.
Natasha: What would you might say to someone who is critical of the value of service-learning?


Elliott-Johnson: Sometimes the community and the world has a perception that our youth are sitting around playing video games, watching television, going to the mall, or looking in the mirror - caring about themselves. So, I just don't understand anyone who would be against young people using what they have learned in school to improve their schools and their community.


One of the things about the service-learning in Guilford County is that it is optional. We understand that many of our young people have really full, active lives and may not really see this as something that they really have a passion for, or time for. We have 72,000 children in our school district. This isn't going to be the thing that every child wants to do.


We do believe that our teachers should be using this as an instructional strategy in classrooms because it is a research-based strategy that increases student engagement, reduces discipline and improves attendance. We hope that students that are doing this don't just want to get an award, but that they have a passion around an issue and they are committed to solving that issue.


What we try to do in the elementary and middle school levels is build that passion for the [service] work, so it's natural for them to have a passion for serving their communities in high school. That's our goal. We intentionally made sure it was optional just for that reason. We didn't want people to feel obligated to serve. We wanted people to do this because this is what they are passionate about.
Natasha: You talked about innovation and problem solving. Do you remember a specific time or example when you saw a student really grow or something just clicked when they did service-learning?


Elliott-Johnson: We read a lot of the reflections that youth write about their experiences. [At] the middle school down the street, one of their English teachers lead a global awareness project in connecting students to another country that she had actually spent time in as a Peace Corps volunteer. Those students wrote letters back and forth, and ended up actually writing books for the students there because one of the issues is that they don't have books.


Another example - we have students who are developing tutoring programs. They are helping us address issues of literacy; they are helping us to address achievement gap issues. [In] one of my favorite projects, we had students lead a senior project called "Malaria Sucks" which was an initiative to purchase and distribute netting in a country with a lot of deaths and illnesses from malaria. I just see this as the world being opened up to a lot of students. We have a responsibility as global citizens to help each other.
Natasha: You described service-learning as an educational tool. Now, this seems to be a point of confusion for some people: the difference between volunteerism and service-learning. How would you clarify or define what service-learning means?


Elliott-Johnson: When you look at high quality service-learning, when we are talking about service-learning being used as an instructional strategy, we're talking about a teacher using it as a strategy to teach content in the classroom. In the classroom it should be a very good balance between the learning and the serving.
We have to realize that sitting in a classroom is not the only way you learn, and it's certainly not the best way you learn. You learn by doing. Experiential learning is the best learning.

As a student, speaking with Brenda Elliott-Johnson was inspiring. I got to see how educators are finding innovative ways to improve education through service-learning. She stressed the importance of learning real-world applications and skills through service. Elliott-Johnson believes that service teaches "big picture skills" such as critical thinking and teamwork, and also helps build empathy, reflection, and oral and written communication skills. She sees service as a way to build persistence and global awareness. Her passion for improving education through service has resulted in the growing success of Guilford County Schools' service-learning program. For students, this program is opening doors and eyes, which otherwise would remain closed in the classroom. As a student, I personally can attest to the power of learning through service.
Halfway through grade nine, our guidence counselor visited my English class to talk about opportunities in high school and our future. What stood out to me most during this session was a story he told about what may happen to a student participating in service-learning. In the story, a student interested in science starts volunteering at a local hospital. In time, the student gains insight into the medical field and might even take on a small part time position at the hospital. This experience helps him to grow as an individual and become an engaged member of his community. With this experience in hand, when the time comes to apply for college, this student has built an interest in medicine upon real-life experiences.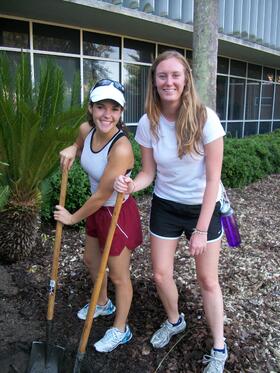 After hearing this promising story, I decided to find out more about the service-learning program. I started with volunteering at the library two hours a week to meet the monthly goals I'd set for myself. From there, I was exposed to other exciting extracurricular and service-learning opportunities where experience and connections started becoming my most prized tools. I'd become aware of the possibilities available to me, and my volunteer work became about more than counting hours and a piece of paper at graduation.
Spending a few hours sorting books at the library snowballed a whole new chapter in my life centered around service-learning. I became involved with other nonprofits and service events, joined youth leadership and service organizations, and learned the value of being an engaged member of the community. I became more outgoing and a better risk-taker. While engaged in service, I interact with people from different backgrounds and age groups. I developed better oral and written communication skills, and the confidence to make myself not just seen, but also heard.
In short, my life has taken a turn similar to that of the student our counselor described to us. Because of the work of people like Brenda Elliott-Johnson do in the field of service learning, pushing students to solve community problems and apply themselves to more than just school work, I have grown and matured. I have learned more from the opportunities presented by service-learning than from any other experience in my teen and adolescent years.

How have you seen service-learning change your own live or that of someone else's?