This post was written by NobleHour Special Contributor Natasha Derezinski-Choo, a student at Grimsley High School in Greensboro, NC.
As Millennials come of age and enter the workforce, their views of work are quite different from older generations. Young people value work-life balance, but they see work as a part of their life that should be a meaningful part of their life. They are looking to get more than a paycheck out of a job, and when they find the right fit, they are usually willing to invest more of their commitment and determination to yield personal, professional, and social gain.

Here are some core beliefs that affect the way Millennials view work, and how they can find jobs that satisfy these values.

Fulfillment: Unlike previous generations, Millennials care more about job fulfillment than financial security. Millennials see work as an opportunity to delve into their interests and to work in a field they feel passionately about. Young people don't want jobs that feel like work. They want their work to feel meaningful. This type of meaning can take many forms. As Generation Y enters the workforce, they are looking for opportunities where they can use their knowledge and education to learn new skills and get ahead. For some, a job is fulfilling if it is part of a successful career they see in the future.
Millennials are confident and are motivated by goals and room for growth. They are looking to gain experience and are willing to learn. Young people will also find jobs fulfilling if they are challenged and given the chance to think critically and creatively. They are not interested in menial tasks and are more interested in being engaged. Millennials who feel their work is meaningful are more productive and also less likely to quit.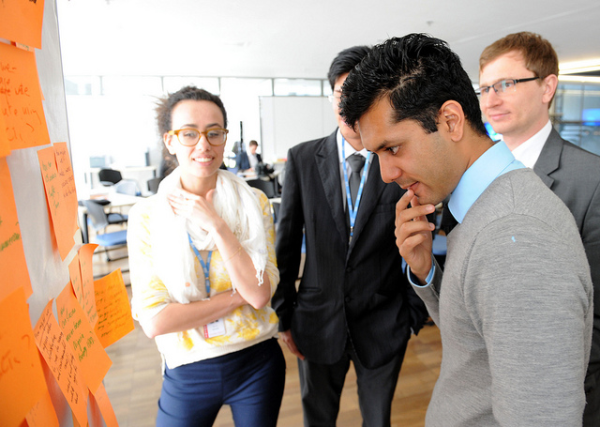 Technology: Millennials grew up in the tech age. They want to use technology to make things faster and more efficient. They want to use their devices to communicate and multitask more smoothly. Young people view technology both as a tool and as a piece of their identity. They use technology to be more productive and better communicators, but they also value social media and the ability to express themselves. Though older generations may perceive this as a distraction, young people love to multitask and they enjoy the ability to talk to friends, communicate questions to coworker, and even share a "selfie" with their social networks all on the same device. However, as writer Crystal Kadala points out, "Treating your Gen Y employees like your IT Services connection is a definite no-no. Not all Gen Yer's are adept with technology and no one likes to be put on the spot for assumed skills." Millennials want to work with technology that makes them more productive.

Feedback: Since Millennials are interested in expanding their skills and knowledge in their work, they also want to receive feedback. They want to know what they are doing well and how they can improve. They see their jobs as more than a means of income; they want to gain experience and expertise.
Young people are looking for jobs that will be valuable opportunities, and they want to work for people who will serve as mentors in their careers. Work relationships that feel like egalitarian partnerships allow them the chance to be heard, feel valued in a company, and receive guidance and experience.

Values: Generation Y sees businesses and corporations as forces for social change. They believe companies should take an active role in addressing societies issues such as the environment, inequality, and fair business practices. Millennials are interested in companies whose values align with their own. A survey conducted by PwC found that almost sixty percent of Millennials prefer to work for an employers whose "corporate social responsibility values matched their own." Young people believe that business should have a positive impact on society, and for this reason the prospect of social entrepreneurship is very appealing to Millennials. Not only are Millennials more likely to be entrepreneurs, but because they grew up volunteering more than their generational counterparts, they have more faith in the common good and are more involved in volunteerism.
They were raised in an internet-connected, globalized world. They are more likely to have traveled abroad compared to older generations, and they are more aware of problems faced by people on both a global and local level. Through social media, Millennials are connected and more sympathetic to seeing the broader picture, and they feel that bettering society is a necessary part of success. They believe their work should be more about generating profit, but also about sustainability and a better tomorrow. Business initiatives and corporate responsibility that benefit the community appeal to Millennials.
"Young people want to simultaneously reach levels of financial wellbeing as well as achieving social good," said Claritta Peters, a student at SOAS Ventures.
Millennials want their work to have meaning, not only in terms of personal or financial growth, but also as a benefit to the community at large. When they feel that their values are part of the work they do, they are more personally invested, dedicated, and committed.

How can Millennials find work that fits the bill? Based on this list, we can see that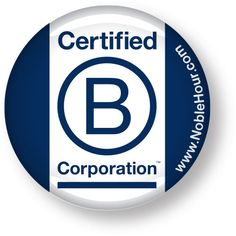 Millennials are demanding higher expectations from their work. A way of fulfilling their hopes in work is through working for a Certified B Corporation. Certified B Corporations, or B Corps, form a community of over 900 companies certified for "higher standards of transparency, accountability, and performance." In 2012, NobleHour became a Certified B Corp by encouraging groups and individuals to connect and to enact and measure positive social change. B Corps like NobleHour use "the power of business to solve social and environmental problem" and "are leading a global movement to redefine success in business."

The B Corp Anthem says, "We have a dream that one day all companies will compete not only to be the best in the world, but the best for the world." This mission aligns with what most Millennials are looking for in their careers. B Corps can provide meaningful, innovative environments that provide room for growth and align with Millennial values.

Image via itupictures