Super Bowl XLVIII is less than a week away. Approximately 108 million people are expected to watch. Not only will it be an economic boom for the New York/New Jersey area, but for
thousands and thousands of take-out and delivery restaurants, establishments with big screen televisions, as well as snack, liquor and beverage distributors throughout the country.
Apparently Super Bowl Sunday is considered the second biggest eating day of the year after Thanksgiving. A few statistics show why. According to the National Chicken Council's 2014 Wing Report, an estimated 1.25 billion wings will be devoured during the Super Bowl. Domino's Pizza will sell more than 11 million slices of pizza this Sunday. And, according to the Nielson Company, nine out of ten people will watch the game at their home or a friend's house. It's one of the biggest events for friends and family to come together.
This got me thinking. Why can't we enjoy this event and use it to spark a movement to help others? With this being the National Football League's first cold-weather, outdoor Super Bowl, it could be the highest-profile game in the event's history. Fortunately, I'm not the only one who thinks we can use this opportunity do social good as well!
The NFL and the NY/NJ Super Bowl Host Committee are harnessing the excitement of Super Bowl XLVIII to organize a number of community events and donation drives to provide support to those in need. The Snowflake Youth Foundation, a charity initiative of the Host Committee, was created to raise money and support for a number of local community projects, including the rehabilitation of after-school centers, support for the Super Community Blood Drives, and various environmental works. The foundation and its partner organizations have raised more than $11 million to support 50 projects to improve after-school facilities in New York and New Jersey communities.
"As this work illustrates, when the power of the world's greatest sporting event is combined with the generosity of the New York and New Jersey region, an indisputable difference can be made in the lives of our youth." Said Jonathan Tisch, Host Committee Co-Chairman in a recent statement issued by the foundation.
Kickoff to Rebuild is also an annual NFL sanctioned event. Hosted by Rebuilding Together, the organization partners with the NFL in Super Bowl cities across the country, rebuilding houses and bringing together neighborhoods, home by home, block by block. This month, they mobilized hundreds of volunteers, including past and present NFL players, community leaders, celebrities, and local and national sponsors to complete critical home repairs for thirteen local low-income homeowners. The repairs will improve the safety and health of homes for local residents in Bergen County, New Jersey, including seniors and families who were devastated by flooding from Superstorm Sandy.
Another event to capitalize on the excitement of the Super Bowl is the Super Community Coat Drive, which runs through February 7. Organized by the NY/NJ Super Bowl Host Committee, along with New York Cares, Jersey Cares, and other local organizations, individuals can donate gently used and freshly laundered coats at hundreds of locations throughout New York and New Jersey.
"The Super Community Coat Drive is an initiative that fits perfectly into the Host Committee's mission to give back to the communities of New Jersey and New York," said NY/NJ Super Bowl Host Committee President and CEO Al Kelly.
Throughout the 2013-14 season, the National Football League's Taste of NFL asked fans to raise money online through their Kick Hunger Challenge. Fans from all 32 NFL teams and Brooklyn competed against each other all season by raising money online for food banks in NFL communities around the country. The funds raised will directly impact the donation of thousands of meals to food banks in each team's community. Fans can go online till January 31, 2014, to make donations in the name of their favorite NFL team. The winning team gets an additional $10,000.
Dr. Melony Samuels is executive director and founder of Bed-Stuy Campaign Against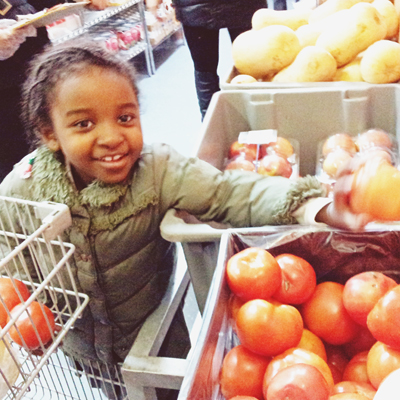 Hunger, one of the designated food banks to receive funds. "They (NFL) created a team for us to raise money. It's called Brooklyn, New York. We want to get everyone in New York to back us. We are fighting hunger for a good cause. We are one of the largest, if not the largest, emergency feeding program in New York City. We served 2.9 million meals to 338,951 individuals last year. We will continue to meet that need."
In addition to the Kick Hunger Campaign, the NFL hosts Party with a Purpose®, a food and wine event in the host city on the eve of the Super Bowl. Chefs from each NFL city, provide food and wine pairings for guests to sample. Proceeds from the event also benefit food banks in each of the NFL cities.
So, why let the NFL have all the fun? People all over the country are planning Super Bowl parties this weekend. Samuels encourages everyone to have their own canned food drives. "Tell their guests to bring a can or two to donate to an emergency feeding program."
She also encourages schools and colleges to start a buzz in their different communities; to have clubs and organizations compete against each other and raise money for their local food banks. Samuels said one of the easiest ways to find your nearest emergency feeding program is to call 311 or the Hunger Hotline at 1-866-3Hungry. She also suggests contacting your local city hall or city council. "Local people know what is going on in the community," said Samuels. "They can easily tell you where the programs are. When families are hungry, it's not a secret."
According to figures from the Department of Agriculture, approximately 48 million people in the U.S., including 17 million children, lack access to adequate food. "If every group just donated $20, it could help many families," said Samuels. "We could purchase at least 15 meals with $20. Sometimes if we get good prices, we can get $1 a meal."
While 48 million may seem insurmountable, just imagine if everyone of the over 100 million viewers donated $10 to their local food bank or donated a can of food or a gently used coat, hat or set of gloves to their Super Bowl party. Or, imagine if we decided that the following Sunday, we would get together with friends and family and volunteer our time to a local community organization. It might not be an economic boom, but it would be a positive one. How will you watch the Super Bowl this Sunday? Join in the excitement and support your community!