They're BACK! Our college students are home for winter break and they've brought a lot of baggage with them! Enjoy that first great big smile of recognition at the airport, followed by a wonderful hug and kiss. They've come home with their bags stuffed, including a few non-tangibles – that new-found sense of independence, an "air" of maturity peppered with attitude, a new curfew time, and of course at least two loads of dirty clothes! The first 24 hours are the best for me, but do they really need four to five weeks off for the holidays? I mean, even my husband only gets the week off between Christmas and New Year's and I think that's very generous. High school and elementary school students go back right after New Year's. So what am I going to do with two college students till mid-January? Get them up and out of the house before noon to share some of that youthful energy helping others.
Many organizations are looking for extra help during the holidays. Whether it's collecting food for shelters or helping serve holiday meals to the homeless, have your college or high school student take a break from texting, shopping, hanging out, or playing video games and spread some holiday cheer. Start with your own city's website. In Chicago, the city's service initiative is called One Good Deed Chicago. The program lists opportunities to volunteer and support the diverse non-profits in the city. Has your student put on the freshman 15? Sign them up to help shovel snow for the elderly for a great workout!
New York City's service website has hundreds of listings including tutoring, serving meals at shelters, and teaching seniors about the Internet.
In addition to city and state government websites, you can also check out your local chapters of the United Way, YMCA, and the Salvation Army.
The Salvation Army in Williamsburg, Virginia, needs bell ringers through December 24. To quote Buddy the Elf – "The best way to spread Christmas cheer is singing loud for all to hear!" According to their website, volunteers can sing carols, play an instrument, and of course ring a bell! In the midst of all the commercialism, your good-hearted son or daughter can remind others to share and care about people in their community. If it's too cold to ring the bell outside, you can also create your own virtual red kettle fundraiser!
The Greater Chicago Area, Northern Illinois and Northwestern Indiana Division of the Salvation Army also offers mobile alerts to let you know about opportunities to help in your area.
Make sure to also check out some amazing volunteer opportunities listed on the NobleHour website. There are thousands of listings all over the United States, ranging from visiting nursing homes, volunteering at schools, or sorting and packaging food at local food banks. Find the true meaning of the holidays by getting your student excited about serving others.
If your son or daughter just wants to nest and watch every old holiday movie during their college break, then get those idle hands working. Even someone with all thumbs can make a no-sew fleece blanket! Blankets can be donated to local homeless shelters or you can contact your local chapter of Project Linus, a non-profit organization that provides homemade blankets to children in need. Their website provides a variety of patterns including quilts and afghans.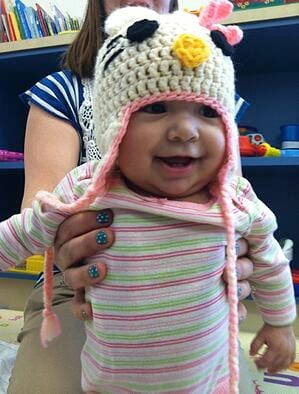 If you and your child like to knit, spend some quiet, quality time together knitting caps for cancer patients. Knots of Love donates caps to men and women who have lost their hair due to chemotherapy treatment, burn accidents, brain surgery and head trauma patients, as well as individuals with alopecia.
At the point where you can't take your college student acting like a guest in his own home anymore, it's time to call in the big guns – grandma and grandpa! A little quality time with them will make everyone happier! Boost their ego by asking them to help their grandparents with a few technology lessons. DoSomething.org's Grandparents Gone Wired campaign encourages young adults to use their online skills to help seniors get connected. Spend some time with gramps setting up a twitter account, or show grandma how to use Facetime and Facebook on her cell phone and laptop! Call your local nursing home to see if you can help residents there too. The campaign runs through January 21, and also offers an opportunity to win a $10,000 scholarship! The time spent together is a priceless gift.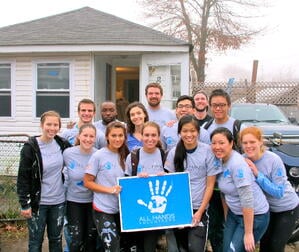 If your student is always on the go and the thought of being home for four to five weeks will drive you both crazy, then consider a service trip to round out the winter break. All Hands Volunteers has a number of opportunities available, including Project Detroit, an effort to help those in the greater Detroit area recover from damaging floods that occurred this past August. Over 200 homes in the Detroit metro area have been mucked, gutted and sanitized. Experience isn't necessary. Trained supervisors are on hand to assist volunteers with a variety of tasks
Last year, volunteers focused on rebuilding the homes and communities affected by Superstorm Sandy and also responded to the devastation left by the earthquake and typhoon in the Philippines
Visit the All Hands Volunteers website to complete an application, as well as determine available dates.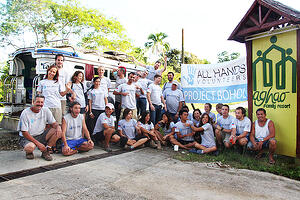 The organization provides three simple meals, basic accommodations, and basic logistics to ensure a positive and productive experience. Volunteers must cover their own travel expenses and meals on days off. The organization has a strict minimum age policy and cannot accept volunteers under the age of 15 (14 in the Philippines). All 16 and 17 year olds must be accompanied with a responsible adult.
There is no minimum or maximum time commitment, and the organization does not charge a participation fee. Volunteers can come for a day or a couple of months. The organization wants to make it as easy as possible for people to volunteer and make a difference.
So, before you know it, you'll be sending your son or daughter back to school with a duffel bag filled with clean laundry. While you'll be happy to get back to your quiet routine, you'll might also be counting the days until Spring Break! Don't worry, we'll come up with a few ideas to help you then too!
Photos courtesy of Knots of Love and All Hands Volunteers.