This is the time of the year when advertisements are being thrown at us from more angles than usual. Most of these advertisements come from campaigns directed by big box chains, and it's always nice to score some nice deals on gifts for your loved ones. However, let's also not forget that hidden gem whose sparkle is increasingly neglected amongst the flashing billboard. In the spirit of holiday giving, be sure to spend some time buying local as a way to give back to your community.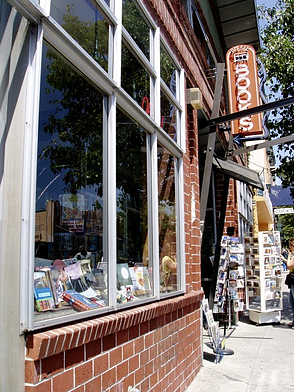 There are a lot of benefits to your community's economy when you purchase locally. Supporting small businesses keeps more money in your community and usually helps money circulate faster. Buying local means that small businesses flourish and create jobs and opportunities for people in your neighborhood, rather than outsourcing jobs overseas. Additionally, local businesses tend to rely on other local businesses for services such as banking, printing advertisements, supplies, and legal services. When you spend money at a local vendor, the portion of your money spent that the business uses to pay its expenses stays in your community by circulating to other small businesses. (Source: Time Magazine "Buying Local: How it Boosts the Economy")
David Boyle, a researcher for the New Economics Foundation, explains how money circulates differently when you spend locally, rather than at large chains. He uses an interesting analogy: "Money is like blood. It needs to keep moving around to keep the economy going," but when spent at large, multinational businesses, "it flows out, like a wound." The force pumping that money is you, the consumer.
Buying local can also prove better for the environment. Local stores are less likely to import product, reducing the need for transportation. An infographic by the website eLocal emphasizes that airplanes account for more carbon dioxide emissions than any other form of transportation. This is startling, considering that shipping accounts for one billion metric tons of Co2 emissions a year. The hundreds of miles that a product travels to get to your local big box store is a hidden cost to the environment, your health, and your wallet.
Buying locally isn't just about where your money goes. It's also about what you get in return. If you try to explore local shops you'll find unique merchandise that can't be found in the big box stores. There's something quaint about visiting a small shop rather than a large department store. The "buy local" movement is about understanding your options as a shopper and informing yourself about the impact of your decisions.
For example, if I want to buy a book I have a few options nearby. I can check out my local used bookstore and get it for $3. If I purchase it brand new at the large bookstore chain, it will most likely cost me double, or triple, the price at the least. For me, a brand new book and a used book aren't too different in value. I could get it used on Amazon for pennies, but the shipping will set me back $4, and I'll have to wait a week for it to come, which I'm not too keen on doing. There are ebooks, but I'm sentimental and like to read with pen in hand to write in the margins. In this case of buying locally, I've considered the options and found that buying locally is my best option. In addition, the woman who owns the used bookstore is much friendlier than the bookstore chain. If I talk to Amazon, I don't think the website will respond.
Now, granted, with the success of big box stores, local vendors can't always compete with the prices of larger chains. However, buying locally is does not mean sacrificing your wallet. It means being aware of the benefits of buying locally versus shopping at large chains. It entails understanding the value to what you're buying rather than just the price. Some things are more easily accessible at a large store because many small businesses have been run out of town by the bigger ones. In other cases, a local restaurant may offer better and more unique dining options than a chain restaurant or fast food option.
When given the option, don't forget to support local businesses. Paying it forward is not just about service. It's about the lifestyle choices you make each day that impact those around you. It's important to focus on where your money is spent, and make decisions about more than a price tag. As a consumer, your money is your vote.
Image Source: http://www.flickr.com/photos/vsmoothe/249921300