It's that time of year. Seems like there are multiple parties every week between now and New Year's Day. Cookie exchanges, office parties, tree trimming parties, ugly holiday sweater parties, neighborhood get-togethers, family events, New Year's Eve and don't forget Festivus for the Rest of Us!
'Tis the season to be jolly and spread good cheer with friends and family, but how about your community? This year why not have a holiday party with a purpose – one that shares good will to all men, women and children?
Let's face it. While we may love getting gifts, we really don't need one more candle, another box of candy, or a tin of popcorn. As the saying goes – it's better to give than to receive. So in the spirit of the season, here are six simple ideas to truly enhance your holiday parties.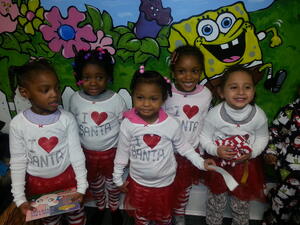 1. Instead of Secret Santa, collect new pajamas and books.
The Pajama Program provides new pajamas and new books to children in need. Millions of children live in poverty and don't know the comfort and security of a simple bedtime ritual. Many live in group homes or temporary shelters and have never even owned a pair of pajamas.
Contact the Pajama Program or a local chapter to determine their needs and where to send your donations. Ask your guests to skip the hostess gift and bring new pj's and books to your party instead. Want to do more? You can also volunteer to read to children at one of their reading centers or help sort donations.

2. Collect jeans for homeless teenagers. This is a great project for middle school, high school and college students. In 2008, DoSomething.org® partnered with Aéropostale to create Teens for Jeans. Similar to food drives, teens collect new and gently used jeans to donate to homeless youth. Over a million young people under the age of 18 experience homelessness in the US every year.
"We called homeless shelters across the country and asked them what young people entering homeless shelters often requested and found that jeans were one of the most requested items," said Nami Mody, Homelessness and Poverty Campaign Specialist for DoSomething.org.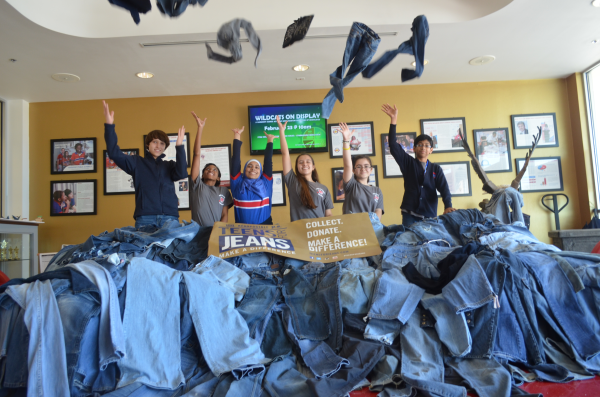 Teens can bring their jeans to any Aéropostale store. The jeans will be distributed to local homeless shelters. Mody is not surprised by the success of the program and its impact on local communities. "Young people want to take action in their communities, and homelessness is one of the causes they care about the most. The campaign is so inspiring because it's all about young people helping young people."
You can collect jeans now during the holidays and drop them off at local Aéropostale (and P.S. from Aéropostale) stores from January 12 to February 15, 2015. Each store is paired with at least one homeless shelter or charity in your community. Jeans of all sizes are needed and should be in good condition.
3. Chances are someone in your family or circle of friends will find a new cell phone under the tree this Christmas. You may even have a few old cell phones in your "junk" drawer. Now you can put them to good use. Instead of exchanging ornaments at your holiday party, tell your friends to bring their old cell phones!
Cell Phones for Survivors encourages people to donate their old phones to be refurbished, sold, and turned into funds to help survivors of domestic violence. Simply collect and mail in old cell phones. Sign up at Do Something.org and print out postage paid shipping labels.
HopeLine® from Verizon is another similar program. Since 1995, Verizon has refurbished phones and equipped them with minutes, texting capabilities, and a variety of services before giving them to survivors affiliated with participating domestic violence agencies. Phones can be from any provider. Drop off donated phones at local Verizon stores or ship with their postage paid shipping label.
4. Whether you're in charge of the office party or planning the end of year club or team celebration, share your joy with others who need your support. Find all those holiday greeting cards you keep buying on sale and never send out or create your own. Ask your guests to send Season's Greetings to military personnel away from home and family. Or, send cards to your local nursing home, children's hospital, or shelter, etc.
Every year, Operation Gratitude sends over 100,000 care packages filled with treats and letters to deployed U.S. Service members, their family members, and wounded soldiers. See their website for specific details about what to write and where to send your cards.
A MillionThanks.org asks individuals and groups to write cards and letters of appreciation for the military. Review their guidelines, find a location near you, and send your cards and letters to our troops. Contact your location via phone or email to be sure they can accept your cards and letters.
5. If you're having a cookie exchange, ask your guests to also bring an extra pair of gloves, socks, a hat or some basic toiletries. When dividing the cookies, assemble extra bags for your local homeless shelter. Fill reusable grocery bags or old backpacks with items like toothbrushes, toothpaste, soap, shampoo, deodorant, and hand sanitizer, etc. This is a great way to use all those little hotel shampoo and body wash bottles! You can also find hand warmers in the dollar section of many stores. Don't forget to add the cookies!
6. This season brings a lot of celebrations filled with our favorite dishes, treats, and traditions. What are yours? If you're getting together with family and friends to bake or cook your special recipes, have everyone bring duplicate non-perishable items for your Thanksgiving, Christmas, or New Year's Day dinners and donate them to a local food bank. Or, check with your local church to sponsor a family in need. Collect items they might need to brighten their holiday. You can also stop by your post office to pick up Letters to Santa. Help bring joy to children around the U.S.
Whether you're celebrating with family, friends or co-workers, give thanks for what is truly important. Remember to share your joy with your community and those in need. How do you celebrate this season of giving? Tell us what you do as a family, with friends and with your community.