This post was written by NobleHour Special Contributor Natasha Derezinski-Choo.
What does it take to get teenagers to come to school on a Saturday morning? After spending approximately forty hours at school each week plus time after school doing homework, I like having Saturdays for myself, and I think most students would agree. In the average Millennials' world, plagued by educational inflation and constant mantras to work harder, become smarter, and test better to get into college, free time is golden. So golden, you'd think young people would keep it all to themselves, but of course young people are also using their time to do a world of good. Which is why on a Saturday morning students representing high schools across Guilford County woke up early and came to school to learn about service learning.
The Guilford County Schools (GCS) Character Education Department and the GCS Service-Learning Youth Council hosted the event, held at Ragsdale High School in Jamestown, NC—just outside of Greensboro, NC—. In Guilford County, students are strongly encouraged to engage in service learning. If, over the course of high school, students log 100 service learning hours they receive an Exemplary Award upon graduation, and if students track 250 hours they receive a Service-Learning Diploma. This program encourages young people to play an active role in their community. Service-learning is not only important for these students while in high school, but also to build experience when applying to universities and living better lives after graduation.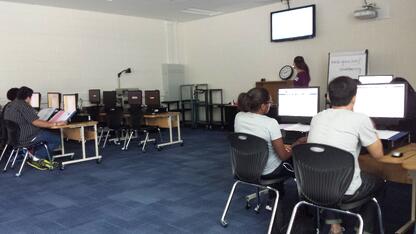 Saturday's Service-Learning Ambassador Training was focused on educating students on how to be Service-Learning Ambassadors. Of the 25+ high schools in Guilford County, each school was invited to send up to five of their most dedicated students to learn about advocating for service learning among their peers. Additionally, schools could send two students who'd already been trained as Service-Learning Ambassadors to facilitate the training and workshops.
Students learned how to engage in service learning and how meaningful volunteerism can facilitate a more well-rounded educational experience. Students rotated in groups to attend several workshops to help them bring service learning back to their schools. Organizations such as the Poetry Project, Habitat for Humanity, Horsepower, and many other local non-profits met with students to tell them about exciting opportunities they can get involved with. Students also learned about the importance of youth voice in their actions and words. Youth empowerment was an important focus of this particular workshop, demonstrating to young people the power and change they can unleash by engaging in volunteerism. Working together, the Character-Education Department, experienced Service-Learning Ambassadors, and NobleHour's own Keara Ziegerer trained students in the use of NobleHour's hour-tracking software to help them track their impact in the community and progress toward their Service-Learning Diplomas. However, the goal of the program was not only to educate students about service learning, but also for them to take this knowledge back to their schools and cultivate service programs, hence the name Service-Learning Ambassadors. As Ambassadors, students are not only working to be active in their community for their diplomas but are also active in their schools helping other students become more aware of the importance of service.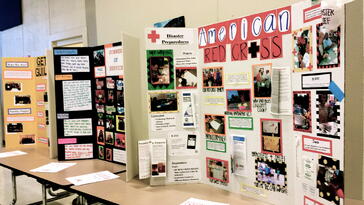 After the seven-hour program, students were tired and exhausted, but better for it. Students ended the day reflecting on what they'd learned. Senior Meredith Wettach commented, "I was so inspired to see all the students that are truly dedicated to giving back to our community." This week all these students will return to school—though probably not on Saturday for quite some time—and try to better themselves and peers. They will become leaders.
Last year, when I attended the training for the first time, it was in the early beginnings of my journey of committing to volunteerism. As I reflect on the past year, I realize I have grown the most as a person in that time, and becoming a more confident leader and better individual are definitely in part the result of my service learning projects.
I'm inspired to see so many students taking initiative not only in their communities and schools but also in their own education. Particularly, with the political unrest over budget cuts here in North Carolina, I'm glad to see that service learning has not been forgotten, and I wish more aspects of a complete, well rounded education were preserved for our generation in the face of economic hardship.
At the end of the day, my hope is that students did not only come out of the training with a simple understanding of service learning and how hours are tracked, but with the knowledge that their time is as good as gold and that the number of hours one puts in is immeasurable compared to committing yourself to reach your own potential.