National Grandparents Day is Sunday, September 7. Despite popular belief in my household, Hallmark™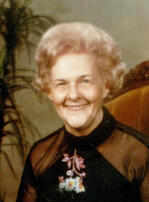 did not create this holiday. In fact the idea originated in 1970 when Marian McQuade, a housewife in West Virginia, initiated a grassroots campaign to set aside a special day just for Grandparents. McQuade felt deeply about the lonely elderly in nursing homes and was also a tireless advocate for senior citizens rights. After three years of working with civic, business, church, and political leaders, West Virginia Governor Arch A. Moore proclaimed the first National Grandparents Day. McQuade didn't stop there. She petitioned governors in 49 states to follow West Virginia's lead and set aside a Grandparents Day. Forty-three of those states declared it a holiday. In 1978, President Jimmy Carter proclaimed the first Sunday after Labor Day as the official National Grandparents Day.
McQuade passed away in 2008, but many of her descendants carry on her legacy through the National Grandparents Day Council, a non-profit established to protect and promote the original intent of National Grandparents Day as championing the elderly.
So in honor of Marian McQuade and all the wonderful grandparents out there, we've come up with a list of 10 ways to celebrate the day and honor your grandparents! Whether they are near or far, you can honor them year round.
Pick up some take-out, bring your laptop and your cell phone, and get grandma and grandpa connected! Show them how to use e-mail and Facebook to connect with friends and family that live out of town. Set them up with Skype or FaceTime so they can see their grandkids! Turn them in to cyber seniors and then, make sure you can keep up with them!
Help them create a YouTube video! Get Grandma to share her secret recipe for those chocolate chip cookies!
Get that video camera out or charge up your cell phone and start asking questions! Grandma and Grandpa have a lot of great stories! Ask them about what life was like when they were your age! Record their history so you have a keepsake and can share with others!
I bet there's a box of old photos at your grandparents' house! Go old school and pick up an album or scrapbook. Spend the afternoon going through and labeling the photos. Let Grandpa share some great stories about the one that got away! Or, gather the photos, scan them, and add them to their new Facebook page! You can also put the photos on a disk and create a video with music for a great birthday or Christmas present!
Pick up some poster board or get on Ancestry.com and create your family tree.
Take your grandparents to one of their favorite restaurants for breakfast, lunch, or dinner. Turn off the phone, ask some questions, and listen!
Get a group together to visit the elderly in nursing homes. Check in on elderly neighbors.
Take your grandparents to the movies or catch a baseball game together!
Shop and cook one of your grandma's favorite recipes together!
Find opportunities to volunteer together! Helping others can make you both feel great!
Enjoy this day and every day with your grandparents. Make sure Grandma and Grandpa post a comment about their special day on our NobleHour Facebook page!
Photo of Marian McQuade courtesy of National Grandparents Day
Photo: Dolly Duplantier